From start to finish, we source some of the best materials and techniques out there for residential and commercial construction. We don't cut corners because we value quality workmanship and take the extra time to make sure every detail is right. Our custom home designs are well thought out, and not one-size-fits-all. Our commercial buildings are well planned and built with the goal of improving your business. We don't just build a home or business that you can trust will stand for generations; we build your dream.
Residential services from Ainsley Construction include:
Contractor Services
Design Services
Electrical Work
Plumbing
HVAC Installation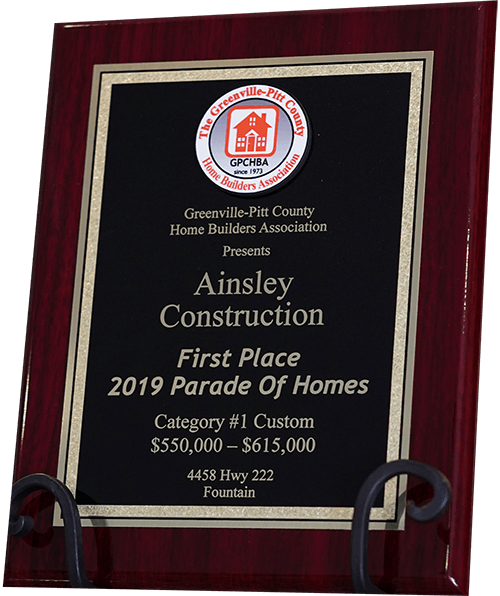 4458 Highway NC 222
First place winner 2019 Parade of Homes.  Modern farmhouse design, 3500 square feet.  This home features an open floor plan with 10 ft. ceiling heights accented with coffered ceilings in the master bedroom and living room.  We also built custom cabinets with inset doors and drawers topped with quartz countertops.  We focused on other unique features, like the beautiful trim that was built on-site to create that a one-of-a-kind look.  At the same time, the home offers a wonderful living space with features like a master built in closet, large pantry and laundry room to make this stunning space highly functional as well.
3660 New Town Court
Craftsman-style home with an open floor plan.  The home is three bedrooms with two and a half bathrooms. Special details include, but are not limited to: coffered ceilings in the dining room, vaulted ceilings in the living room, trayed ceilings in the master bedroom, large walk-in shower, closet-system in the master closet and glazed and lacquered finish on the kitchen cabinets.